NY Fintech Scene Growing Faster Than Silicon Valley Since '08
Deals and investments in NY fintech startup scene are important to long-term ability to stay on the cutting edge.
Drawn in by the proximity to huge financial centers and increasing opportunities to work side-by-side with top industry firms, the Big Apple has become a booming hub to financial technology (fintech) startups. Rising demand for innovative solutions has further helped strengthen the ties between two traditionally distant counterparts.

According to a recent report by Accenture, the fintech trend is on the rise, and the money is pouring in. Investment in New York's financial technology venture sector is now growing two times faster than Silicon Valley since 2008 and many banks have joined the bandwagon by launching their own multi-million dollar in-house VC funds. Vendors are also trying to attract early-stage companies and savvy entrepreneurs through incubator and mentoring programs.

In a relieving take on Silicon Valley's culture where age and experience too often equal unhip and obsolete, Wall Street firms are relatively non-discriminant. In addition to the younger contingent with wildly diverse backgrounds, industry veterans are starting up firms to address what issues they experienced in the field.

Perhaps what's most impressive is just how very open and involved established financial service firms are with the entrepreneurial community. An industry observer can see the big players are doing their best to keep tabs on the revolving door of mobile, analytic, cloud regulatory compliance, and data security solutions.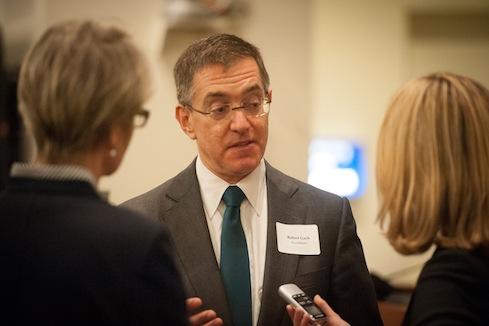 This is perhaps epitomized by programs like the FinTech Innovation Lab sponsored by Accenture and The Partnership Fund for New York City. Now in its fourth year, it has been successfully pairing handfuls of fintech startups with financial institutions including Bank of America, Barclays, Capital One, Citi, Credit Suisse, Deutsche Bank, Goldman Sachs, JPMorgan Chase, Morgan Stanley, and UBS.
The best part? Although the industry participants play a role in narrowing down the pool of startup applicants, Accenture ultimately assigns the startup to the firm where they will spend 12 weeks receiving high-level mentorship and expert product and business development advice.

Imagine, powerful industry players willing to dedicate months of time and resources on small firms they had probably never had on their radar before. It's hardly something you'd expect an established firm to sign up for without significant potential for return.

Matching solutions to problems
Narrowing down and assigning the pool of startups can be complicated, explains Bob Gach, global industry managing director of Accenture's Capital Markets practice. It's a process made more difficult by the industry's tendency to not publicly disclose the internal problems that need solving.

It's a sentiment mirrored by David Reilly, the technology infrastructure executive at Bank of America, who was on hand at last week's Innovation Lab Demo Day for LMRKTS and RevolutionCredit, the two winning startups BofA mentored. He explained there is a diverse range of niche solutions presented by the dozens of applying startups, and it's not likely the entire panel of executives see the potential application or how the product can be tweaked to solve specific problems.

LMRKTS, for example, is helping banks reduce risk in their derivatives portfolios with algorithms to identify excessive counter-party credit risk, and by suggesting trades to reconcile the exposure. It's a holistic solution to a massively expensive industry problem that often goes unmentioned, explains Reilly, but those involved in the space have taken a strong interest in experimenting with the startup's solution.

"Startups are key to our long term-ability to stay on the cutting edge," Reilly explains. "We want to give exposure to executives across the bank to these kinds of companies."

Reilly adds that Bank of America also engages with startups through the bank's annual technology innovation summit in Silicon Valley, which began in 2009. During the first day of this event, bank executives meet with emerging technology thought leaders to discuss Bank of America's strategies, needs, and goals; on the second day, 40+ hand-selected startups present their solutions to bank executives. According to Reilly, nearly 17% of the companies at the summit have become vendors for the bank.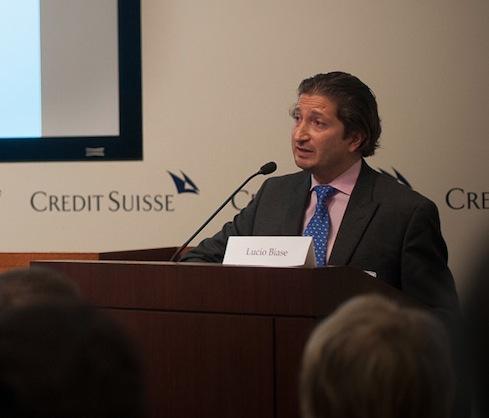 By the numbers
Global investment in financial tech ventures has increased more than four times the rate of overall VC investments in the past three years, reports Accenture. "Global fintech investment tripled between 2008 and 2013 from $928 million to $2.97 billion and is expected to double again to between $6 billion and $8 billion by 2018. The first quarter of 2014 was the most active on record, with $1.7 billion invested globally."

New York has made up a significant portion of that investment, and according to Accenture has received $1.1 billion in fintech investments between and 2008 and 2013, including $430 million in the last year alone. "In the first quarter of 2014 it had $151 million in investment -- its third-highest quarter on record. New York fintech investment could grow to $950 million by 2018, according to the study."

Based off the success of New York's FinTech Innovation Lab, Accenture launched the incubator program in London in 2012, and recently announced its expansion to Asia-Pacific in Hong Kong. According to the report, since 2008 investment in Asia-Pacific fintech ventures has increased nearly fourfold to $104 million in 2013.

"New technologies have made it possible for small ventures to research and develop powerful solutions for industry 'pain points' and create growth opportunities," said Gach in Accenture's press release on the Innovation Lab. "By opening their doors to these ideas, banks can accelerate their own innovation agendas and drive growth and efficiency. We are proud of the impact that the FinTech Innovation Lab is having on the fintech ecosystem and of the work that has been done by the entrepreneurs and financial institutions in this year's program."
Becca Lipman is Senior Editor for Wall Street & Technology. She writes in-depth news articles with a focus on big data and compliance in the capital markets. She regularly meets with information technology leaders and innovators and writes about cloud computing, datacenters, ... View Full Bio