4 Surprising Ways Firms Think About Data Security Costs
Almost 28% of firms are willing to bear the cost of some financial losses due to cybercrime, because it's less than the cost of upgrading IT systems.
According to the recent Kaspersky Lab survey of worldwide IT professionals, 93% of financial services organizations experienced cyberthreats in the past year. With the number and sophistication of cyber attacks on the rise, it's fair to say the remaining 7% are probably lying, or completely oblivious to what's going on in their systems.

The survey asked 3,900 participants across 27 countries about the obstacles they faced in managing and maintaining their IT infrastructure and in allocating resources to various issues like security and training.

"Protecting highly sensitive data," "preventing IT security breaches," and "data protection" stuck out as the top concerns of IT leaders. As the survey dove deeper into practices and priorities, it became clear that for reasons largely having to do with cost, organizations are not as eager to increase efforts in security.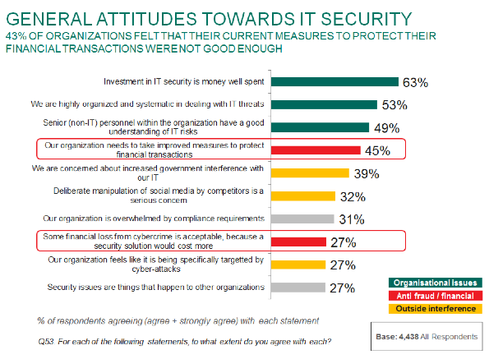 Bearing the costs
Ross Hogan, global head of the fraud prevention division at Kaspersky Lab says the most worrisome finding from the survey was that the percentage of large businesses and enterprises "willing to bear the cost of some financial losses due to cybercrime because it will still be less than the cost of upgrading our IT systems" is staggering.

According to the survey announcement, this attitude is "particularly flawed," given that 52% of financial institutions have a reimbursement policy for all losses caused by cybercrime without investigation. For a large firm, this can run into the hundreds of thousands of dollars.

He says if these organizations considered the "total cost of fraud," which includes not only financial losses, but operational costs, legal and regulatory impact, reputation damage, customer attrition, the increased cost of acquiring new customers, and the overall emotional toll and loss of morale, they would certainly think and act differently.

When asked if existing measures for protecting financial transactions were sufficient, 53% were comfortable with their current strategy, 45% felt they should be doing more, and a pragmatic 27% had felt they found that balance between their risk and costs.

Hogan understands incremental investment in security in an effort to outpace the savviest of hackers can be daunting. "Instead, I would recommend organizations partner with expert global security organizations that develop flexible technologies capable of adapting to the latest threat evolution."
Becca Lipman is Senior Editor for Wall Street & Technology. She writes in-depth news articles with a focus on big data and compliance in the capital markets. She regularly meets with information technology leaders and innovators and writes about cloud computing, datacenters, ... View Full Bio