Financial Firms to Struggle With Growing Social Infrastructure in 2015
Capital Markets Outlook 2015: Social media infrastructure in financial services will grow dramatically in the coming year, putting pressure on IT and compliance to shed manual processes and use scalable technology.
Challenge: For financial services, 2014 was a year of rapid adoption of social media in the workplace. Announcement after announcement came that firms had launched pilots and handed social media privileges to advisers, marketing teams, HR, and beyond. Stories about the benefits of going social are now starting to emerge, including a recent case study by Morgan Stanley showing it was able to expand its selling environment by leveraging social presence to connect and communicate with potential clients. Though a majority of firms are still standing on the sidelines planning their own launch into the social arena, those already in the ring are now facing their next big social challenge: managing the growth of their infrastructure.
---
Wall Street & Technology's Capital Markets Outlook 2015
Here are 10 topics that will be a focus for financial institutions in 2015 and beyond:
---
Why it's important: Social infrastructure includes all corporately owned pages or accounts on each social network, and subsequently measuring the scale of that infrastructure by the amount of content created, users engaged, and applications used to communicate through those accounts. According to a recent study (registration required) by Proofpoint's Nexgate division, which specializes in social media security and compliance, the average Fortune 100 company has 320 company-owned social accounts and more than 200,000 followers. Within the enterprise, there are dozens of tools used to operate that presence, including an average of 12 tools just to publish content.
Where the industry is now: Much of this infrastructure exists outside the enterprise, making it difficult to apply internal concepts of compliance and security. Social financial firms have paved the way in creating policy framework and have developed tools and technology to make social media safer and more productive, but many of the solutions for content review and handling incidents are manual, so they work only to a certain scale.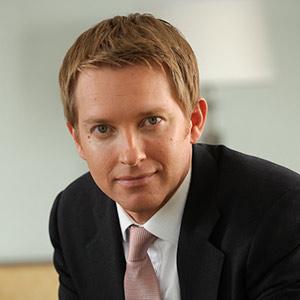 Devin Redmond, Nexgate CEO and co-founder
Therein lies a problem. Companies that have experienced success in social media are trying to move from initial deployment of perhaps a pilot with 100 social users to an enterprise rollout with, say, thousands of wealth management advisers.
The impact on resources to enable an enterprise social workflow is going to be fixed, not with more people, but with better technology.
Focus 2015: The challenges facing social communication software is overwhelming, but it needs to be managed effectively to prove compliance in the face of vague regulations. For the most part, technology has lagged in this area, but it is not for lack of trying. Nexgate CEO and co-founder Devin Redmond said people are rapidly building technology infrastructure to automate and scale to take advantage of what they've been doing manually.
For example, inventory tracking (accounting for who has a social profile and who is posting) is typically done in spreadsheets. Producing and approving feed content is another area ripe for automation. According to Redmond, there's usually a back and forth in spreadsheets between the content creators and the compliance department before the content is uploaded to the appropriate tool to be sent out. This needs to be streamlined.
As for compliance, the staff will find itself overwhelmed with social growth. This group can directly benefit from automation, so they are not dealing with manual review and one-off processes, Redmond said. "Some of the content is obviously good or bad. Use security technology to automate that, so the person responsible for reviewing content only sees 20% of it."
More investment and staffing of IT will also be on the horizon as social presence scales up and utilizes more complex and robust infrastructure tools, both from a marketing and social management perspective. "Tracking, policy enforcement, and inventory management tools have an impact on IT teams already supporting IT programs. Dedicated 'social operations teams' or 'marketing tech operation teams' may start to emerge."
Industry leaders: When social media emerged, people most familiar with them were hired to manage the infrastructure. Those days are long gone. Today there's a need for accomplished professionals, and now that programs are mature and there's more data for analysis, social presence requires more senior operation leaders and compliance folks to be engaged. Even the role of data scientist is playing out as infrastructure grows.
Regulatory update: When it comes to social media, all corporations struggle with regulatory compliance. Though they want to do the right thing, firms are not getting clear directions from the SEC or FINRA on what those safeguards are. Interpretations of current rules are varied among companies and even within an enterprise. So far, the emphasis has been on proving that there is a policy, and that managers can enforce against it.
Some technologies help with e-discovery, storing, and cataloguing, but without more clarity from regulators, it is difficult to build and invest in more infrastructure. Firms are hoping for more engagment with regulators on this subject in 2015. Though it's unlikely regulators will be crystal clear in the next year, the smallest decisions can enable growth.
Becca Lipman is Senior Editor for Wall Street & Technology. She writes in-depth news articles with a focus on big data and compliance in the capital markets. She regularly meets with information technology leaders and innovators and writes about cloud computing, datacenters, ... View Full Bio