Itís All About Personalization at TD Ameritrade
Veteran financial services CIO Marv Adams is making personalized client experiences the priority at TD Ameritrade.
Personalization drives Marv Adams these days. Whether it's client-facing mobile apps or back-office clearing and settlement systems, aligning IT toward delivering individualized experiences has defined the 30-year technology and operations veteran's approach since he joined TD Ameritrade as executive VP and COO early in 2011.
"You can call it big data, but it's really about personalization," says Adams. "Technology innovations are making it possible to tailor offerings to almost a segment of one. This enables us to create a really exciting business strategy and also makes IT more exciting because there are many interesting dimensions required to make our personalization strategy happen."
Examples of client-facing personalization efforts at TD Ameritrade, with its $650 billion in assets under management and an average of nearly 400,000 trades per day, include a multifeed client website and increasingly sophisticated mobile apps.
---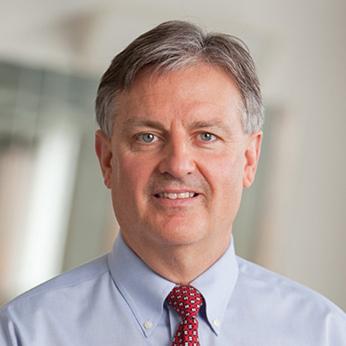 Marv Adams, COO,
TD Ameritrade
Marv Adams
Executive VP and chief operating officer
TD Ameritrade

Career bio: Before joining TD Ameritrade in early 2011, Adams was executive VP of shared services for TIAA-CREF. Previously, he served in leadership roles for Fidelity Investments, Citigroup, Bank One, Ford, and Xerox.
Education: B.S., electrical engineering, Michigan State University.
Who influenced you the most in your career? "Definitely my dad, who is a deeply value-centered person. He modeled inspiring people with a clear sense of purpose, making the right decision, and focusing on the long haul rather than short-term interests."
What experience had the biggest effect on your career? "Early in my career, a boss suggested taking a project working in the field with contractors to help them meet their deliverables. Although it seemed like a demotion at the time, the project management and partner relations experience ultimately gave me a foundation I've drawn upon ever since."
What would people be surprised to learn about you? "This year, I started learning to play the piano as a really fun, different type of goal. I keep several keyboards around so I have no excuse not to practice."
---
A three-year initiative, the company's recently updated client website segments screen real estate into unique content channels. Over time, Adams says, this will enable TD Ameritrade to gain detailed insights on individual clients as well as push out customized offerings -- whether research, products, or invitations to trading conferences.
In the mobile channel, TD Ameritrade has similarly evolved. Rather than a single mobile app, now there is a sophisticated version for high-volume traders and a more basic one for beginners.
Given the swift adoption rate, the benefits from properly courting mobile users are clear. Trades via mobile nearly doubled at TD Ameritrade over the past two years, now representing approximately 13% of all trades. Additionally, nearly 25% of the firm's new account applications came from mobile devices. "Also, our data shows that people who trade via mobile platforms actually trade more," says Adams.
For the independent adviser channel, Adams has encouraged an "app store" approach to building out the Veo Open Access platform, the firm's account management and trading platform designed specifically for advisers. "To date, we have 75 software companies, from CRM to analytics and portfolio management, that have written to our API [application programming interface]," he says. "That's up from 50 a year ago." Software providers connected to Veo include Salesforce.com, Laserfiche, DocuSign, DST Systems, SunGard, SS&C, and FactSet.
Most importantly, adviser response has been strong. "According to an annual survey of advisers by an independent source, Veo ranked No. 1 in technology satisfaction for 2012 and 2013," says Adams. "And we've seen a 150% increase in Veo adoption by investment advisers during the past year."
Modularization enables personalization
Equally critical is the firm's ongoing transformation of middle- and back-office systems. "It's like remodeling an older house to include all the modern amenities," say Adams. "For instance, modernizing clearing and settlement APIs, which improved interaction with other systems, has driven up throughput by almost 60%."
Other back- and middle-office efforts include leveraging private external and internal clouds as well as exploring platform-as-a-service. "The goal of these projects is modularizing systems," says Adams. "This enables assembling front-end solutions much more rapidly to take advantage of quickly evolving mobility options."
Other TD Ameritrade initiatives include leveraging Hadoop for mining data and adopting various technologies for developing and embedding sophisticated algorithms into systems "so you can operationalize them at scale," Adams says. On the edge, the firm is tinkering with wearable technologies and in-vehicle options.
Yet, says Adams, these technologies aren't inherently interesting. Rather, the game-changing potential over the next three to five years comes from how firms like TD Ameritrade combine emerging technologies to create and mobilize solutions.
"It's one thing to capture a lot of data and to mine it," says Adams. "It's another to do it at scale, use the results to create business-aligned products, and then offer those products up to clients in ways that feel like a personal relationship instead of something you're just trying to sell. Further, it all needs to be done on platforms that enable clients to be connected wherever and whenever they want, on whatever the next device may be."
End-to-end perspective
Accomplishing these multiple objectives requires adeptly managing the varying cycle times, teams, and partners required for front-, middle-, and back-office systems. "IT now moves at multiple clock speeds, and that's the biggest challenge of my job," says Adams.
"It's also the most interesting aspect of my job," he adds. "I get to see the entire business system -- from end to end -- and really feel connected to our business purpose, which is serving clients."
Bigger picture, Adams suggests the current business environment requires a new breed of financial services CIO. "Today's CIOs need to be involved with the core client engagement experience -- and the components that go into a multispeed architecture -- as well as understanding the depths of traditional financial services platforms, including resiliency, cyber security, and regulatory compliance," he says.
"That's a pretty broad range of things," he continues. "This means the day of the CIO being a deep data center person is over, as is the day of the CIO being a nontechnical individual. Instead, the financial services CIO role will increasingly align with tech company CTOs, who truly understand their clients and their technologies, like Amazon, Facebook, and Google."
Anne Rawland Gabriel is a technology writer and marketing communications consultant based in the Minneapolis/St. Paul metro area. Among other projects, she's a regular contributor to UBM Tech's Bank Systems & Technology, Insurance & Technology and Wall Street & Technology ... View Full Bio