Citadelís New CIO Builds on a Strong IT Foundation
Citadel has a long history with cutting-edge technology. Joseph Squeri, the firm's CIO, is happy to leverage its technology platform for newer projects.
Grabbing the IT reins at one of the most technologically astute hedge funds in the world is a big challenge, especially when the fund's own CEO has a strong technology background and the previous CIO spent more than a decade building a robust IT foundation. In fact, some candidates might be scared away.
Joseph Squeri, a 28-year financial services technology veteran who took the chief information officer position at Citadel LLC in October 2013, didn't view Citadel as a daunting challenge; he viewed it as an opportunity. "I knew this was the place to be," Squeri says. "All of the technology innovation that Tom [Miglis] helped build gave me a chance to go from great to greater."
Miglis was the CIO at Citadel from 2001 until late 2013. He was credited with building a robust, flexible, and cutting-edge IT shop at the $20 billion hedge fund. In addition, Citadel's founder and CEO, Kenneth Griffin, wrote a convertible bond-trading arbitrage system when he was still in college. To this day, Griffin remains well informed about the fund's technology.
---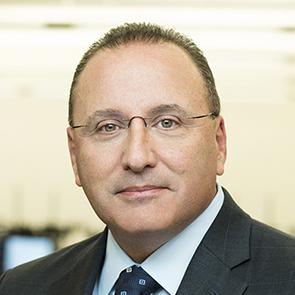 Joseph Squeri, CIO, Citadel LLC
Joseph Squeri
Chief Information Officer
Citadel LLC
Career bio: More than 25 years of experience in financial services. Before Citadel, he was the CIO of Barclays' capital markets and asset management businesses. He was also at Goldman Sachs, where he was global co-head of the securities division.
Education: Bachelor's degree from the City University of New York and a Master's in finance from Pace University.
What experience had the most long-lasting impression on your creer? "My nonprofit work as a board member of Per Scholas and Creating IT Futures has certainly made the most lasting impression on me and my career. My participation with these top-class organizations has provided me with the ability to lever my technical expertise and business skills to make a substantial impact across a number of underserved communities."
What is one thing people would be surprised to learn about you? "I'm a pretty good cook! I truly enjoy the creative aspect of preparing new dishes and take pleasure in sharing what I make with friends and family."
---
Squeri says that realizing the importance of technology to Citadel could be unnerving. "The fact that technology is such an integral part of the firm" is one thing that could keep him awake at night, he jokes. "There's a delicate balance to remaining nimble, but also maintaining prompt responsiveness to client requests. You have to have speed to market, while, at the same time, you can't be satisfied with previous accomplishments."
Squeri says that Citadel's history with technology makes many aspects of his job easier, while he also acknowledges it increases expectations. "My biggest challenge is constantly exceeding my clients' requests -- in terms of how we think, what we deliver, and the pace we execute. We need to give the investment professionals the best tools and analytical capabilities, period."
[To view all of the Elite 8 2014 articles, including technology leaders from Freddie Mac, TIAA-CREF, the SEC, Fidelity Investments, and more, read the Wall Street & Technology Elite 8 2014 digital issue.]
When Squeri joined Citadel, the firm had already moved to a real-time platform for the front, middle, and back offices, something that is rare in the industry. "Our front-, middle-, and back-office platform is truly real time -- no batch [processing]," Squeri says. "We are capable of having one position master and one security master," which reduces complexity and risk.
Risk management experts
"We provide a technology tool kit to manage our risk management platform so Citadel can measure risk for our clients and our firm. We run portfolios through dozens of different scenarios to ensure that portfolios are shielded from potential shocks."
The real-time platform provides Citadel with a unique competitive advantage, says Squeri. "When clients look at our firm and see that we run the entire platform in real-time, they know it allows us to have better risk management and a faster system than most others."
Having a good technology foundation also allows Citadel Securities, the firm's execution services business, to move into new markets more easily. "With Citadel Securities, we are moving into markets that are becoming more electronic," such as interest rate swaps and FX trading, Squeri says. "We will build out our technology strategies as those asset classes evolve. I feel fortunate to inherit such a solid technology foundation from which to grow."
When it comes to analytics, Squeri says Citadel is rolling out big-data capabilities to the asset management business. Many of the capabilities are focused on getting a deeper analysis of research and improving analytics so investment managers can better formulate strategies and increase returns to clients. He says that the first sets of tools can analyze corporate and fundamental data. Now, his team is adding other types of data that can improve the process.
"When it comes to big data, we give investment professionals a sophisticated technology framework for success, including compute farms, which help bring investment ideas to life. Our big-data projects have a practical approach. We start with the data that we know has value, and we mine it to obtain the best information. There is a lot of data out there that can overwhelm you."
Overall, however, the tools that are provided need to be easy to use. "I look at our platform like a Formula 1 cockpit. I want the users to have everything they need at their fingertips. They can use the analytics easily, without having to worry about the back end."
Squeri has approximately 400 technologists on his team, which is small when compared with other companies Citadel's size. The number of workers seems downright tiny when you consider the fact that Citadel builds most of its own technology. "We are not averse to buying technology, but we are really a firm that focuses on building innovative business solutions," the CIO says.
So how does Citadel manage all of its technology with only 400 people? Simply put, it doesn't have the aging "legacy" systems that are found at many financial firms. "Citadel has always appropriately scaled our businesses. We apply a disciplined process to growing and building our businesses. We really do not have any legacy technology. For our staff, that means we're constantly developing new ideas... that will keep us and our clients ahead of the innovation curve."
Attracting and retaining IT talent is especially important for Citadel, Squeri notes, since the firm relies heavily on cutting-edge tools. "Citadel is very attractive to engineers. The value we place on great ideas, intelligence, and problem solving is important in every aspect of the firm. We take a very scientific approach to everything we do. Our retention rate is very high because we provide tremendous opportunities to work on exciting things."
The culture is also part of the reason Squeri, an engineer by training, joined Citadel. In fact, being a technologist -- and not just a business person -- is vital for success, he says. "You need a mix of both. I have a background as an engineer, with an MBA in finance. I can dive deep with the subject-matter experts on the technical team, but I can also debate the market structure changes that are facing the fixed-income business. A successful CIO needs the depth of expertise in both technology and business."
Greg MacSweeney is editorial director of InformationWeek Financial Services, whose brands include Wall Street & Technology, Bank Systems & Technology, Advanced Trading, and Insurance & Technology. View Full Bio